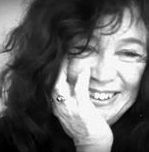 We're all being distracted and hypnotized by mass media, or by people and situations hypnotized and created by mass media, or by governments and industries that use media to massively hypnotize all of us into being too afraid to believe we can change anything.  But I digress.
Gifted hypnotist, Amy Marsh, EdD, DHS, ACS, CI (how'z that for an alphabet soup!), will be teaching the tools of the trade in Puna on Hawaii Island from 3 to 8 PM, Jan. 19-21. These are hypnosis certification classes, so if you are interested in a potential business, these classes lead to certification from the National Guild of Hypnotists.  But if you just want to learn this art for the inroads to healing it offers, all are welcome.
Although she lives in northern-Cal, Amy has a longtime connection to Hawaii Nei and is offering scholarships to Oiwi who are interested in learning how to heal through hypnosis, but may not be able to afford the program.  There is much more being offered here, so please check out Amy's You Tube video and decide for yourself.
On a personal note, Amy Marsh is a dear friend who has used her abilities to help me through several (emotionally) painful events that I might otherwise have collapsed beneath.  So I'm grateful to her and can attest to her skill and generosity as an intelligent, creative thinker and healer.
She is also an ally to Kanaka Oiwi and the Hawaiian independence movement.  And her aloha for one of our longtime  warriors, Ku Ching, makes her a part of our community beyond the political.  Then again, to love, to be loving is one of the most political things we can do, isn't it?  Now that's a revolution waiting to take place.