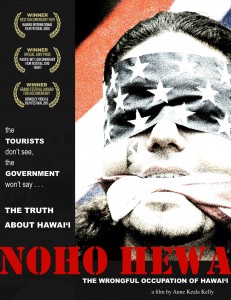 Now available online for $3.99, go to this link: "Hawaii Filmmakers App" and click "View in iTunes" (left column) to install the Free App that opens to the "Hawaii Filmmakers" films.  Mahalo nui to Jeanette Paulson-Hereniko for inviting "Noho Hewa" to be one of the seven films available through this App, and to Brian Dote for designing it!
DVD purchases of the film are available through the PayPal button below.
If you would like to arrange a public screening for your community or campus, or have questions about the film, please send inquiries to nohohewa@gmail.com.
Mahalo nui to everyone who has supported "Noho Hewa!"
PERSONAL HOME USE PRICE (Licensed for non-public and non-academic, home viewing only):
$50
INSTITUTIONAL PRICE (Licensed for in-house use, classroom use, and library circulation only. Contact filmmaker for any other use, including on-campus public performance use, gallery and museum screenings, "community" screenings and fundraisers):
$249
Price includes S&H, taxes and surcharge for Hawaiʻi and U.S. orders. If you are placing an order from another country, please go to the bottom of the PayPal Menu and include the additional $5 charge to cover extra postage and handling.